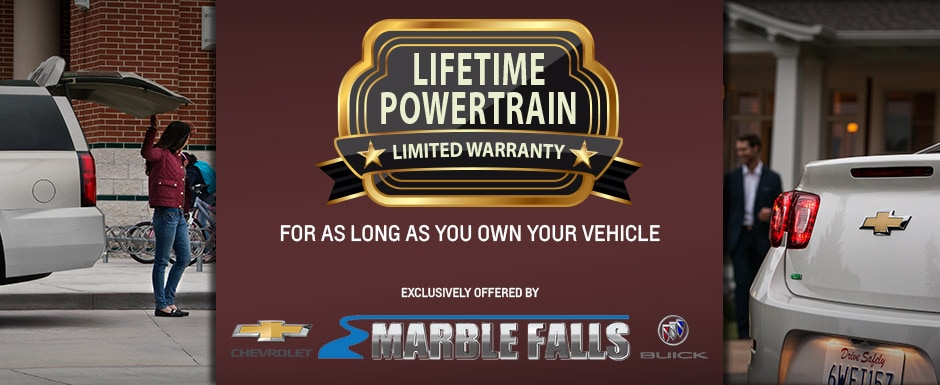 All New Chevrolet Trucks and SUV/Crossovers
POWERTRAIN COVERAGE:
Engine block and cylinder heads and all internally lubricated parts including: intake and exhaust manifolds; water pump and pulley; fuel pump; thermostat and housing valve, timing and side covers; engine mount; harmonic balance; flywheel and ring gear; seals and gaskets. 
Transmission/Transaxle/Transfer Case and all internally lubricated parts including: torque converter; pressure regulator valve and switches; solenoids; transmission/transaxle clutch, drums, pistons and steel plates; speedometer gears; bell housings; transmission mounts; seals and gaskets. 
Drive Axle (includes both 4-Wheel and All-Wheel drive): Differential/axle housing(s) and all internally lubricated parts including: CV joints; front wheel drive axles/half shafts and wheel bearing; u-joints; prop shafts; center support bearings; seats and gaskets.  
Additional Features: 
$100 Deductible per each repair visit 
Fluids coverage 
Covers both parts and labor 
Original owner only - non-transferable
Customer Responsibilities: 
Have their vehicle serviced as recommended in the Manufacturer's Owner's Manual at the prescribed mileage intervals 
Keep copies of all Repair Orders for all maintenance services performed 
Ensure that both the Oil and Temperature Warning Lights are fully operational 
Vehicle Eligibility:
All new Tahoes, Suburbans, and Silverados with less than 5000 miles
No emergency, commercial or fleet vehicles.